Dear shareholder,

Welcome to our report to you for 2010.
It was another challenging year for your company. The global economy did begin to crawl out of recession, but governments, businesses and consumers continued to suffer the aftershocks of the financial crisis. Confidence was in short supply, and my own guess is that it's likely to remain that way for some time.
But once again, Pearson rose to the challenge. As you'll have seen, your company posted operating profit and earnings growth of 15% and 19% respectively. Beneath those numbers for all of Pearson stand excellent results in all parts – Penguin, the Financial Times Group and our education company. For that, all our talented people deserve every credit.
On two especially important performance measures – operating cash flow and return on capital – we hit all-time highs of £1.06bn and 10.3% respectively. And much more important than any single year, this continues a trend of consistent, reliable growth through good times and bad. Over the past five years, our profits, earnings per share and free cash flow have all doubled.
Once again, that strong operational performance was rewarded with good returns for shareholders. After a substantial increase of almost 40% in 2009 our shares began 2010 at 891p. They ended the year 13% higher, just above ten pounds. That growth was a little faster than the overall market (the FTSE 100 was up 9%) but a little slower than our sector as advertising-funded companies that had been hit hard during the recession enjoyed a sharp recovery (the DJ Stoxx 600 Media index was up 13% and the FTSE All-Share Media index 21%).
The second element of our return to shareholders – the dividend – was further increased in 2010. So our total shareholder return (which combines both the share price movement and dividends paid) was up 17% for the year – this coming on top of a gain of close to 50% in 2009. Again, this was ahead of the FTSE 100 (up 13%), but behind the DJ Stoxx 600 Media (up 18%) and the FTSE media sector (up 25%).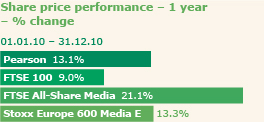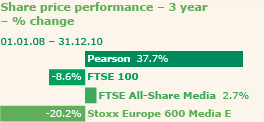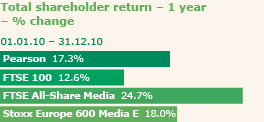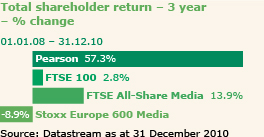 So, there is much to be proud of and I convey my thanks and congratulations to everyone at Pearson. But we cannot look back: our markets are filled with change and we have much to be cautious about.
The economic recovery is not assured and in many parts of the world debt – both public and private – remains a heavy burden. At the same time, the disruptive transformations that have been reshaping Pearson for some time – slower growth in our traditional markets set against rapid expansion in the so-called 'developing' world; and the revolutionary impact of connected digital technologies on the way we all read, learn and communicate – are snowballing. These twin forces – technology and globalisation – have been the dominant trends throughout my business career and Pearson's strategies, opportunities and risks are to a very great extent shaped by them. As reliable as our growth has been, we cannot take it for granted; as Marjorie writes in her strategy review, we have to keep on investing and changing.
These are the strategic matters that consume the attention of our people and the board. Your board believes it can contribute most to Pearson's success by focusing on four key themes: governance, strategy, business performance and people. Our annual board cycle and meeting agendas are formally structured around these things.
I do hope that this report helps provide you with that understanding in relation to Pearson. We have a clear strategy, a focused board, a talented team and a proud record of performance. We will be straining every sinew to continue to build on all those strengths in 2011.
If you have any questions, I invite you to send them to us via our website at www.pearson.com; or to join us in person at our annual shareholders' meeting.


Glen Moreno Chairman