The FT's combined paid print and digital circulation reached 597,000 in the fourth quarter of 2010.
After weak advertising markets in 2009, we saw good advertising growth in 2010 although the visibility for advertising revenues is poor.
We extended the breadth and depth of the FT's premium subscription services through the launch of FT Tilt, focused on emerging markets; the launch of MandateWire US, extending the reach of this successful European brand into new markets; and the acquisition of Medley Global Advisors, a premier provider of macro policy intelligence.
To learn more about Medley Global Advisors, watch our film at www.pearson.com/films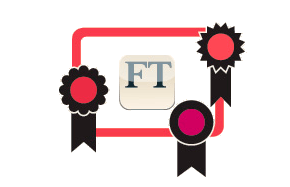 FT online


Award-winning app, Award-winning content

The FT provided strong and accelerating growth in its digital readership with digital subscriptions up over 50% to 207,000, more than 1,000 direct corporate customers and registered users up 79% to more than three million. It generated over 900,000 downloads of FT apps on mobile phones and tablet devices and scooped a prestigious Apple Design Award for its iPad app.